7 best Vietnam Tours in 2022 for those who are looking for a primitive and quiet place or a great challenge trekking.
The Times revealed the best ways to explore Vietnam in the article "Vietnam calling: the most extraordinary trips to book this year".
1. 'Go Wild', Wild Frontiers
A 22-day tour that visitors can join. The itinerary features a number of outdoor activities, such as going off-piste to a local village near Ha Noi and seeing endangered Delacour's langur in Van Long. This is along with taking a deep dive into the earth's treasures at Phong Nha, a national park that's home to the largest cave in the world. You could kayak a river winding past paddies and pagodas to Hoi An. At the journey's end, take a trip to the Con Dao island, which are wild with beaches, marine turtles, and reef life. 
2. 'Classic Mekong', Wendy Wu
The UK media publication noted that visitors can join the 16-day tour that will depart from Cambodia. You can board the Victoria Mekong, the first eco-cruise on the river, towards Vietnam.
After the trip to vibrant Ho Chi Minh City, visitors can take a riverside stroll in Hoi An City, and take cyclo to see French colonial buildings, Buddhist pagodas and street stalls in Ha Noi City. Before heading home, sail on a junk into the teal waters of Halong Bay studded with thousands of karst pillars.
3. 'Vietnam real food adventure', Intrepid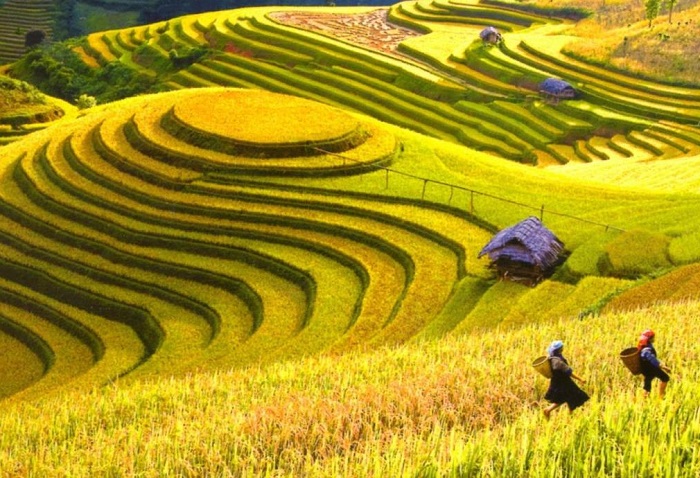 The article stated that "Vietnamese food is the best in the world", recommending an 11-day tour for food lovers to enjoy Fragrant dishes of silky noodle soups, spicy meats, ca phe sua da (coffee blended with condensed milk and ice), and delicious ice cream, most of it consumed at little family-run stalls.
The tour also includes experience tradition tea at a hidden tea house, expert instruction and tasting in rice wine, a vegetarian feast in Buddhist-centric Hue and a hands-on cooking class. You'll even experience a little Gallic flavour in Ho Chi Minh City, with baguettes and coffee at pavement cafés.
4. 'Southeast Asia Family Journey', G Adventures
According to The Times, tourists should spend 12 days visiting Vietnam, Cambodia. In Vietnam, you have chance to to float in a sampan (a traditional flat-bottomed boat) down a river graced by limestone peaks; make sweet potato chips with chefs; and craft ceramics with potters whose ancestors fashioned clay vessels for Vietnam's imperial dynasties.
Then visitors could learn about the dragon king court and royal gossip at Hue with its Forbidden City and tombs on the Perfume River. And cook with youth-training scheme Oodles of Noodles in Hoi An and delve into tunnels near Ho Chi Minh City.
5. 'Vietnam's Northern Soul', Inside Asia
The 12-day tour will take visitors to conical peaks of north Vietnam, admine the rugged mountain scenery, local markets, vertiginous terraced rice fields that turns gold in September, and traditional homelands of the Hmong, Red Dao, and Tay minorities.
It recommended that tourists trek, boat, and drive by day, and spend the night in an eco-lodge and homestays. The trip also features a street-food safari in Ha Noi and languid days cruising Lan Ha Bay.
6. 'Cycling Vietnam', Exodus
According to the article, a 15-day cycling tour will help tourists discover famous sightseeing spots from Ho Chi Minh City to Da Lat in the Central Highlands, then the coastal, and continuos to the North.
After paying a visit to Ho Chi Minh City, visitors can take to the peaceful back roads by bike, exploring fishing villages and stopping off at beautiful beaches along the way. Then they can pass by coffee and strawberry plantations to Da Lat, downhill ride through pine-forested mountains, and swim, snorked at Whale Island. The coastal roads push north, tackle the Hai Van Pass – a dizzying 500m high, where the sheer-sided mountains plunge towards rippling sandy curves dipping into the midnight-blue East Sea. Catching Reunification Express train to the North and then you will kayak around Ha Long Bay.
7. 'Ultimate Vietnam', Black Tomato
The last option offered by The Times is a 14-day luxurious tour with luxury hotels, beach hideaways, spa retreats and even seaplanes.
Your chauffeur will drive you through intriguing Hanoi by vintage classic car followed by a street-food tour with a leading chef, floating through the limestone pillars of Halong Bay on a private junk, taking around the markets of Ho Chi Minh City on a vintage Vespa and boat through to the floating veg markets of the Mekong Delta.
After access to wartime relic sites in Ho Chi Minh City, visitors can kick back at Six Senses Con Dao on an isolated curve of sand overlooking a sapphire sea where manatees, dolphins and marine turtles swim.