Beautiful places in Vietnam including Hanoi, Ho Chi Minh City, Hue, Sapa, Da Nang, Ha Long Bay…. You should spend at least 10 days to discover this beautiful country.
Those are top beautiful places to go in Vietnam.
1. Trang An
Located in the south of Ninh Binh Province, 90km from Hanoi, Trang An Landscape Complex covers an area of 2,168 hectares posessing two ecosystems which are mainly limestone mountain ranges and wetlands. According to our surveys, Trang An has about 500 plants (flora), 73 bird species, 41 mammals, 32 reptiles and 48 watery grottoes which are interspersed in harmony with 31 beautiful valleys and historical relics, particularly, archaeological relics where found prints of prehistoric men dated from 3,000 to 30,000 years ago. Archaeologists and geologist have confirmed that the area of Trang An and Hoa Lu was formerly an ancient sea dating back to 250 million to 300 million years. With a great natural and cultural value, annually, Trang An Landscape Complex receives about 500 thousands tourists.
2. Phu Quoc Island
On the map, Phu Quoc Island is actually closer to Cambodia than Vietnam. Ringed by white-sand beaches, this unspoilt oasis in the Gulf of Thailand recently welcomed the JW Marriott Phu Quoc Emerald Bay Resort & Spa, which was designed by Bill Bensley. From there, it's all tropical jungles, white beaches, snorkeling, diving, kayaking and island-hopping around the 20-some uninhabited islets nearby.
3. Ganh Da Dia
Along the central coastline, north of Nha Trang, the Ganh Da Dia (meaning the "Cliff of Stone Plates") National Heritage site showcases mysterious basalt rock columns. Thousands of years ago, volcanic explosions formed the hardened lava outcrops, which now resemble fish scales.
4. Than Uyen Terraces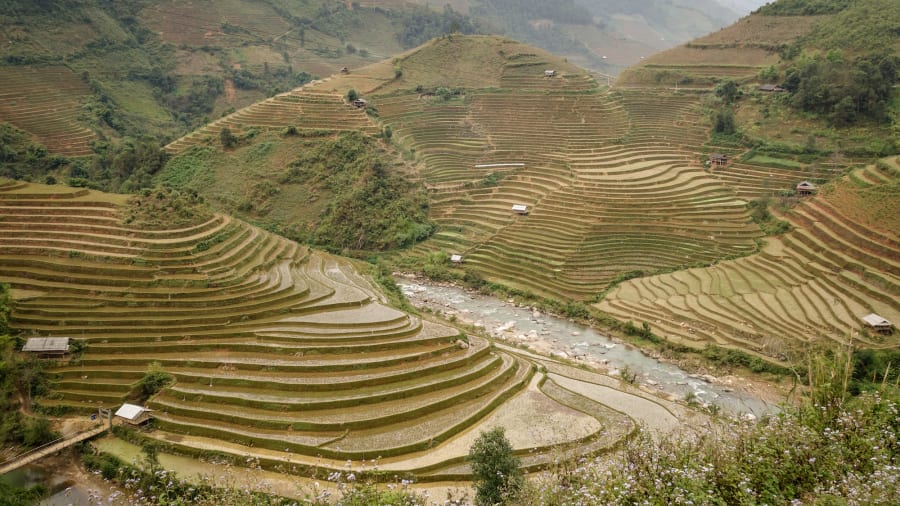 Hidden away in the sparsely populated Lai Chau province of northwestern Vietnam, the Than Uyen rice terraces and tea plantations wind across the countryside in concentric patterns. The glistening scenery makes for a beautiful drive, hike, or remote homestay tour. It's particularly idyllic during tea harvesting season from September to November.
5. Halong Bay
Named a UNESCO World Heritage Site in 1994, Halong Bay is home to thousands of craggy karst rock formations, grottoes and islands — most easily explored on an overnight cruise. Not surprisingly, the photogenic landscape draws millions of travelers to northeastern Vietnam every year.
6. Con Dao Islands
Sitting pretty off the southeast coast of Vietnam, the Con Dao archipelago is loved for its colorful coral reefs, diving sites and clean beaches — some of which double as turtle nesting sites between June and September. When it comes to accommodations, Six Senses Con Dao provides an environmentally sensitive homebase in the heart of this natural wonderland.
7. Ban Gioc Falls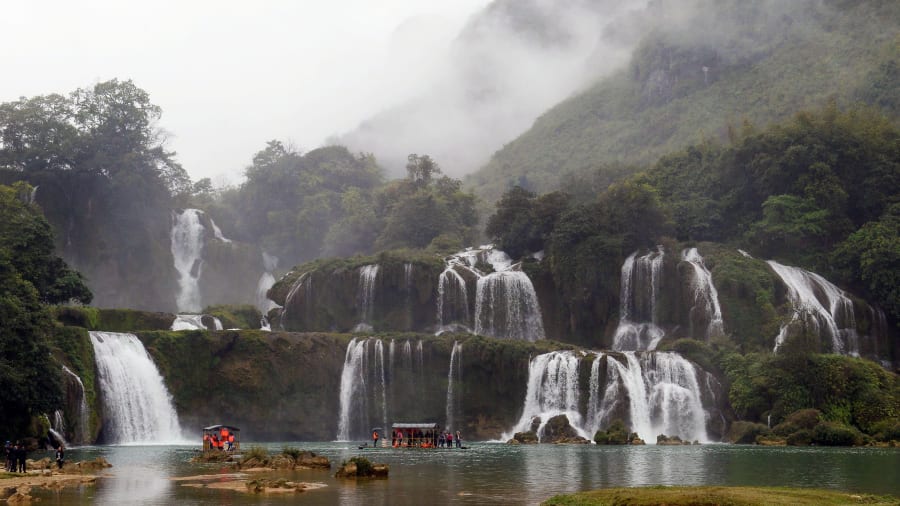 Straddling the border of China and Vietnam, the Ban Gioc Falls can be found along the Quay Son River in northern Vietnam (about 169 miles north of Hanoi). Formed thousands of years ago, the main waterfall thunders from 98 feet at its highest point — and nearly 1,000 feet at its widest. Once you've paid the entry fee (bring your passport to register), you can take a bamboo raft close to the falls or swim in the beautiful jade-green pools.
8. Jungle Beach
On a peninsula just north of Nha Trang, on Vietnam's Central Coast, Jungle Beach is one of those untouched getaways that will make you seriously consider relocating to a tropical island. The island's clean water, soft sand and trek-worthy jungle interior check every box for an eco-oriented holiday.
9. Hue
Sitting on the banks of the Perfume River in Central Vietnam, Hue served as the capital during the Nguyen Dynasty, from the mid-1500s until 1945. The city still remains the historic and cultural epicenter of Vietnam, retaining its imperial feel thanks to a clutch of royal palaces, shrines and theaters all housed in the UNESCO Complex of Hue Monuments. One of the top landmarks is the 19th-century Thien Mu pagoda, pictured here. Elsewhere in the city, you'll encounter Art Deco colonial-era buildings, such as La Residence hotel — formerly the home of the French Resident Superieure.
10. Cat Ba Island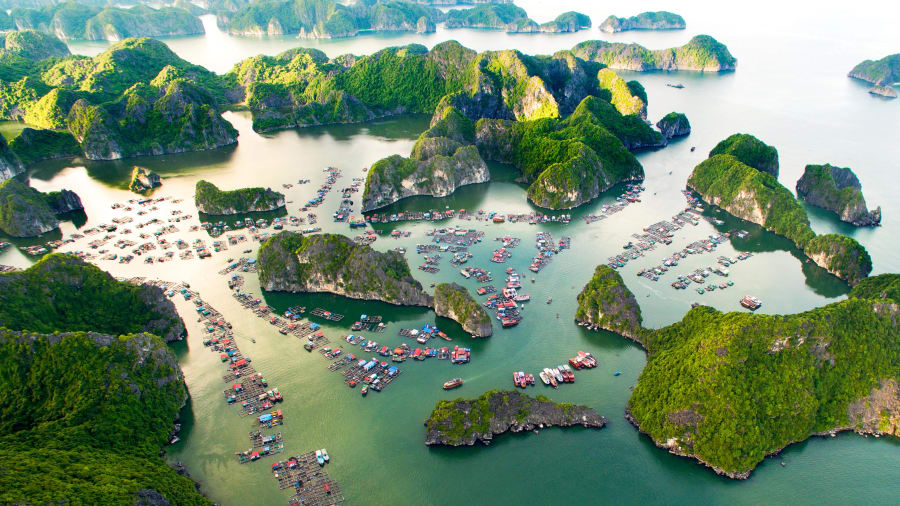 A wonderland of caves and waterfalls, Cat Ba Island is Halong Bay's largest atoll. While the main town has been pockmarked by concrete hotels, it doesn't take much more than a bicycle to get beyond the island's commercial center. Across the 135-square-mile island there are several untouched beaches, nature treks, mangroves, rock climbing, lakes, forts and caves to explore.
11. Phong Nha-Ke Bang National Park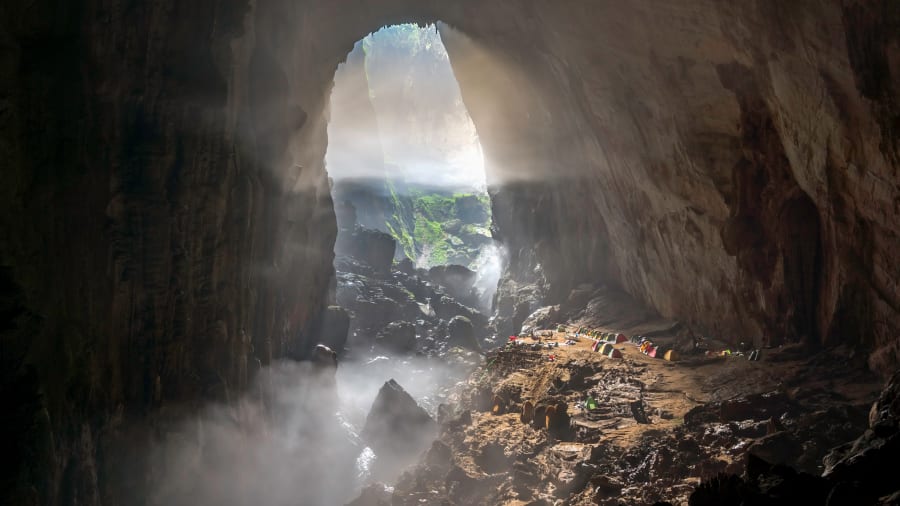 A UNESCO World Heritage, Phong Nha-Ke Bang National Park is heaven for spelunkers. Located in northern Vietnam, the area is home to more than 300 caves, imposing karst mountains, jungle treks, and underground rivers that feel like they've been plucked from an eerie fairytale. It's here where you will find the storied Son Doong Cave, which has been named the largest cave system in the world.
12. Cuc Phuong National Park
Another beauty in Ninh Binh Province, Cuc Phuong National Park is the country's oldest nature reserve, opened in 1962. To reach the visitor center, travelers can trace a paved road on bike, motorbike or car. From there, a hike along one of the designated pathways will lead you past caves, fossils, ancient trees — including one incredible tree that's 1,000 years old. In addition to the vibrant flora, there are more than 135 mammals in the park — think clouded leopards, langurs (a type of primate) and Asian black bears.
13. Hang Son Doong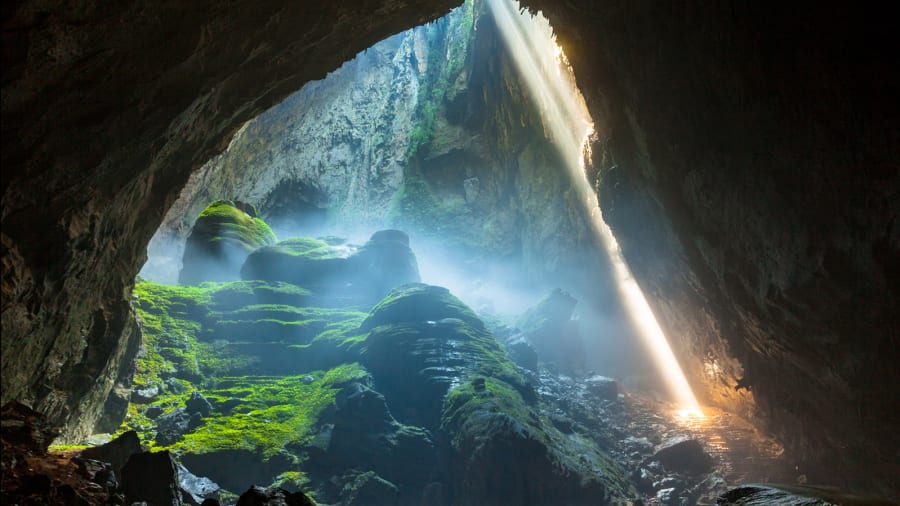 Discovered by a Vietnamese farmer in 1991, the 3-million-year-old Hang Son Doong Cave is the largest known cave passage in the world by volume — it's so big it could hold a New York City block. Located inside UNESCO-listed Phong Nha-Ke Bang National Park, this mystical subterranean world features a rushing river, enormous stalagmites and otherworldly shards of light. It's open to limited number of visitors each year, with tours conducted by Oxalis from February to August.
14. Can Tho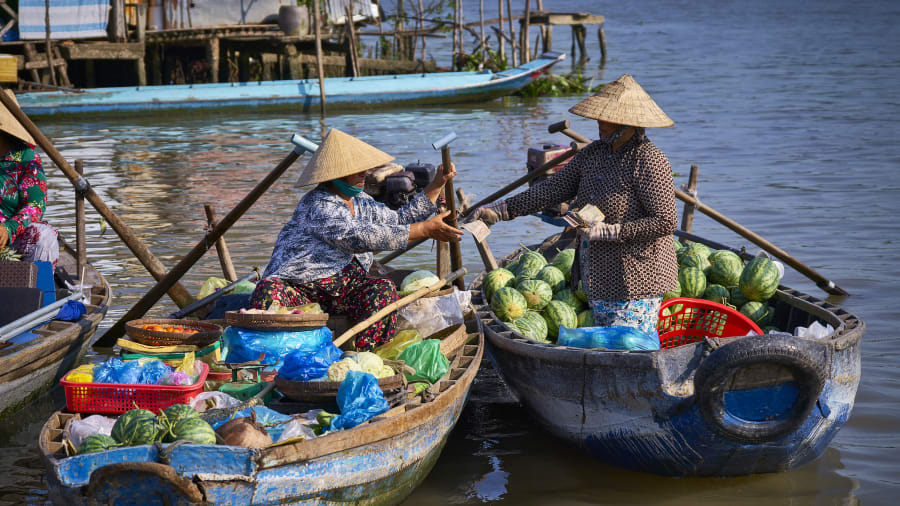 One of the most picturesque cities along the Mekong River Delta, Can Tho is home to a labyrinth of tributaries, lush landscapes, rice farms, mangroves and colorful floating markets. Famed for their fresh vegetables and fish, these local markets pulse with energy and familial vibes. Set on its own islet in the Song Hau river, the recently opened Azerai Hotel Can Tho organizes boat excursions and provides a low-key place to unwind after a day of exploring.
15. Son Tra Nature Reserve
Jutting off the northeastern coast of Da Nang, in central Vietnam, the Son Tra Nature Reserve (aka Monkey Island) is one of the most verdant corners of Vietnam. The millenia-old rainforest plays host to ancient banyan trees, rare flora and peculiar-looking red-shanked douc langurs (pictured here). Located inside the park, the InterContinental Danang Sun Peninsula Resort provides daily trekking trips into the lush forest.
16. Hoi An
Located on Vietnam's central coast, Hoi An is one of the country's top tourist destinations. But the steady stream of travelers doesn't take away from the charm of this 15th-century trade port. A UNESCO World Heritage Site, Hoi An's Old Town is brimming with handmade lanterns, rickshaws, graceful low-rise merchant houses, tailor shops, fresh markets and hole-in-the-wall eateries that will transport you to a bygone era.
17. Dong Van Karst Plateau
A UNESCO Global Geopark located in the northeastern corner of Vietnam, Dong Van Karst Plateau is dotted in limestone peaks and canyons. Around beautiful Ha Giang province, travelers will experience indigenous village life, spot ancient flora and fauna, and maybe even summit one of the 550-million-year-old mountains — the tallest of which is Mieu Vac Mountain (6,466 feet).
18. Hanoi Opera House
Erected by the French colonial administration between 1901 and 1911, Hanoi's Opera House was modeled on the Palais Garnier in Paris and is one of the architectural landmarks of Hanoi. Nowadays, the Opera House hosts a variety of events, ranging from classical concerts and operas to contemporary stage performances and folk music by Vietnamese artists. The largest theater in Vietnam, its audience's hall has a capacity of 600 seats.
19. Saigon Notre-Dame Cathedral Basilica
At the heart of Ho Chi Minh City's historic District 1, the 200-foot-tall (60-meter) Notre Dame Cathedral towers above a field of sunflowers. Constructed from 1863-1880 by French colonists, the neo-Romanesque architecture style and dramatic spires recall the namesake cathedral in Paris. The landmark is currently undergoing renovations, and is expected to re-open to travelers in 2019.
20. Dalat Central Highlands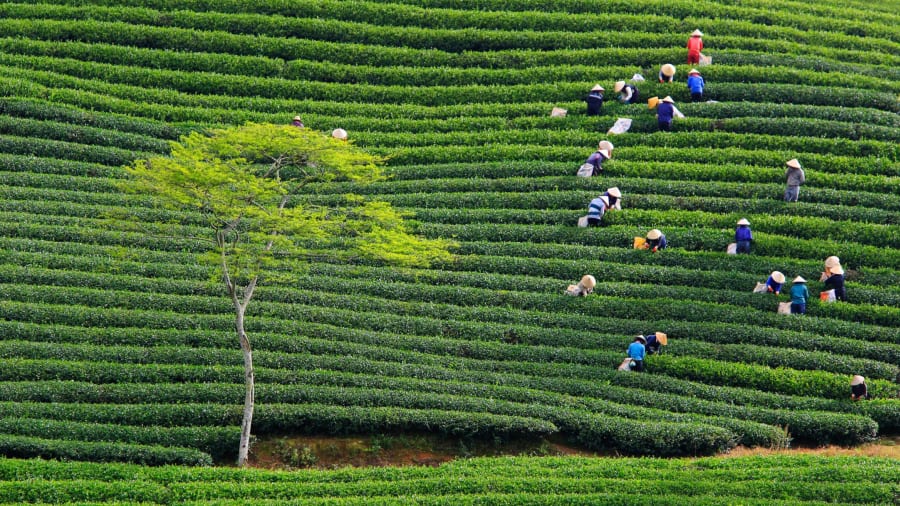 Sitting at an elevation of 4,900 meters above sea level, Dalat has become synonymous with misty valleys and its "eternal springtime" climate. The city itself is all French boulevards and colonial-era architecture, but the surrounding landscapes are the real draw. The natural landmarks range from rolling mountains to dense pinewood forests, sinuous roads and powerful waterfalls.
21. Bac Son Valley
Surrounded by cone-shaped mountains and peaceful rice paddy scenery, the Bac Son Valley in northern Vietnam is impossibly pretty. Throughout the countryside, you'll encounter small villages — usually inhabited by Tay ethnic communities — as well as homestay opportunities, hiking and long stretches of flat terrain that's ideal for biking. The best time to visit is late July and early August, when the ripening rice fields glow in vibrant shades of green and gold.