Hoang Su Phi terraced fields located in the west of the northernmost mountain province of Hà Giang, about 300 km from Hanoi, Vietnam.
Located in the northern mountainous region, Hoàng Su Phì District is known for picturesque terraced fields spanning across six communes of Bản Luốc, Sán Sả Hồ, Bản Phùng, Hồ Thầu, Nậm Ty and Thông Nguyên.
The 3,000 hectares of terraces are said to be around 300 years old; the fruit of non-stop, creative labour by the Mông, La Chí, Dao and Nùng ethnic minority groups.
The magnificent terraced fields, one of the most beautiful landscapes in the whole country, were recognised as a national heritage site in September 2012.
The district is a popular destination for both domestic and foreign tourists who come to enjoy the breathtaking views of the mountain areas and the unique culture of the local people.
In each season, Hoàng Su Phì attracts tourists with a different landscape. In May, the beginning of the rainy season, farmers plow and flood terrace fields with their irrigation systems.
During this period their fields looks like curved mirrors. As the rice grows, their fields are awash with various shades of green.
Between September and October is the most beautiful time for photographers to take pictures. Rice terrace fields are brightly coloured in harvest season creating a breathtaking scene that attracts tourists to Hà Giang Province every autumn.
Besides terraced fields, there are lots of attractive destinations in Ha Giang. First, Đồng Văn Karst Plateau Geopark was recognised as a member of the Global Geopark Network in 2010.
It covers an area of 2,356sq.km and with an average altitude of 1,400-1,600 metres, enjoys a cool climate and a range of different terrains.
There are many grand, deep canyons. Mã Pì Lèng Pass, recognised as the deepest canyon in Việt Nam, is 700-800m deep and 1.7 km long.
Lũng Cú flagpole, the northernmost point of Việt Nam, is a must-see tourism destination for not only Vietnamese overseas who come back for a visit but also for many locals across the country.
Hoàng Su Phì is famous not only for its charming landscapes but also for its 13 ethnic groups, including the Dao, Tày, Nùng, Mông, Cờ Lao, and La Chí.
The district is also one of the localities suffering special difficulties due to harsh natural conditions.
Fortunately, harsh living conditions and geographical factors have not hindered the people from retaining many unique aspects of their longstanding traditional culture.
With maize and rice their major crops, the Cờ Lao honour agriculture, and every year organise a post-harvest festival, which is central to their beliefs.
Families prepare boiled chicken and pork, sticky rice, white wine, fruit, gold coins and incense as offerings for the ceremony.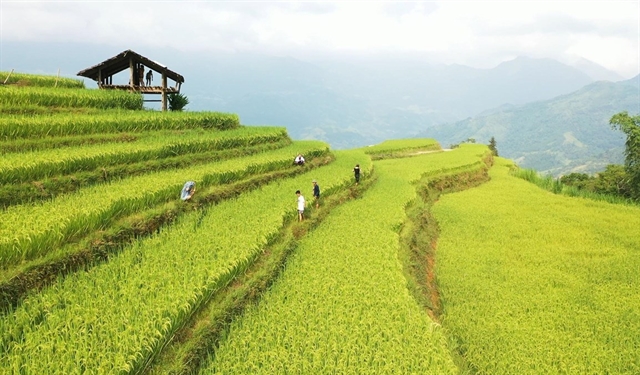 A shaman is invited to carry out basic rituals to thank the gods, heaven, earth and ancestors for bountiful crops.
The Cờ Lao, one of Việt Nam's 54 ethnic groups, has a population of about 3,000. The group settled in the country about 200 years ago and live mainly in the northern mountainous region. They have other branches such as the Green Cờ Lao, Red Cờ Lao, and White Cờ Lao in Hoàng Su Phì and Đồng Văn districts in Hà Giang.
Growing rice on terraced fields and maize, buckwheat, green peas, and roots is the main farming work of the Cờ Lao. 
A Cờ Lao village has 15 to 20 households of the same clan. They make earthen-wall houses with alang grass roofs. The Cờ Lao worship ancestors going back three or four generations.
Farming on rocky, sloping fields is extremely hard. So men are the pride of the family.